When you are shopping for engagement rings the best place to start is with the diamond. Preferably out of a setting. That way you can examine the diamond from the top and the bottom to see the flaw, imperfections, feathering, etc.
When deciding on which diamond you would like to purchase it is always a good thing to compare it side by side with other diamonds to determine the sparkle and fire. Beware of diamonds that have been enhanced they have a very low value when it comes to reselling, or upgrading to a larger diamond.
Very small diamonds that are used as accent diamonds have no real value so avoid buying a ring (cluster) of little diamonds that have been made up to look like a larger diamond. Bigger is better.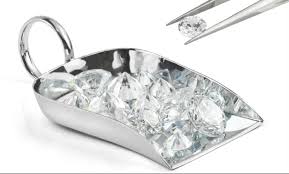 There are many jewelry shops across the Dallas Fort Worth metroplex. Which one should I go to? Diamond Jewelry Wholesalers Dallas offers substantial discounts over regular retail outlets because we are wholesalers and we have limited our overhead so we can pass it on to our customers. 
Shop a few jewelry stores before coming to us. establish budget and price within the scope of the 4 C's. Let's compare apples to apples, you'll be pleasantly surprised and glad you did. We will beat any verified price in the metroplex.
Selling diamonds directly to the public at wholesale prices has become our legacy. We will not sell low grade diamonds or badly-cut diamonds just to make a sale. We would rather do our homework by shopping worldwide for the best price.
When shopping for a diamond of a particular shape, it is always better to compare its shape with other diamonds and place the diamond on your finger to determine if it is the right look for you.
Beware the online jeweler that can't visit with you in their showroom. It's hard to get your money back if you don't know where they are. Come visit us and let us educate you on the right way to shop for diamonds. We love visiting one-on-one so make an appointment so you will not be interrupted.
GIA-certified diamonds are the way to go. The grading is so much superior to other laboratories. When you purchase a color G with a clarity of SI1 you should get what you are paying for. One or two color grades of will cost you a lot of money when selling or upgrading.